This text will be replaced
Unfortunately, we had to suspend sales of this product due to war in our country. Now we are unable to fulfill shipments of physical goods, but we fully maintain development and sales of our software products.

We hope to be able to resume R&D, assembly and sales of the tube. If you would like to get notified about availability, please send us an email and let us know your camera body.
Helicon FB Tube is an extension tube with integrated electronic microcontroller designed to enable automated focus bracketing in single or continuous shooting modes. Mounted on the camera in the same way as a usual macro extension tube, Helicon FB Tube automatically shifts the focus by one step with each shot thus producing a stack of images of unlimited length that can be rendered into a fully-focused image.
Helicon FB Tube needs no additional hardware apart from conventional cameras and lenses. Helicon FB Tube has no optics and does not affect image quality.
Helicon FB Tube settings are configured through an additional application for Win, Mac OS, Android or iOS devices.
Helicon FB Tube set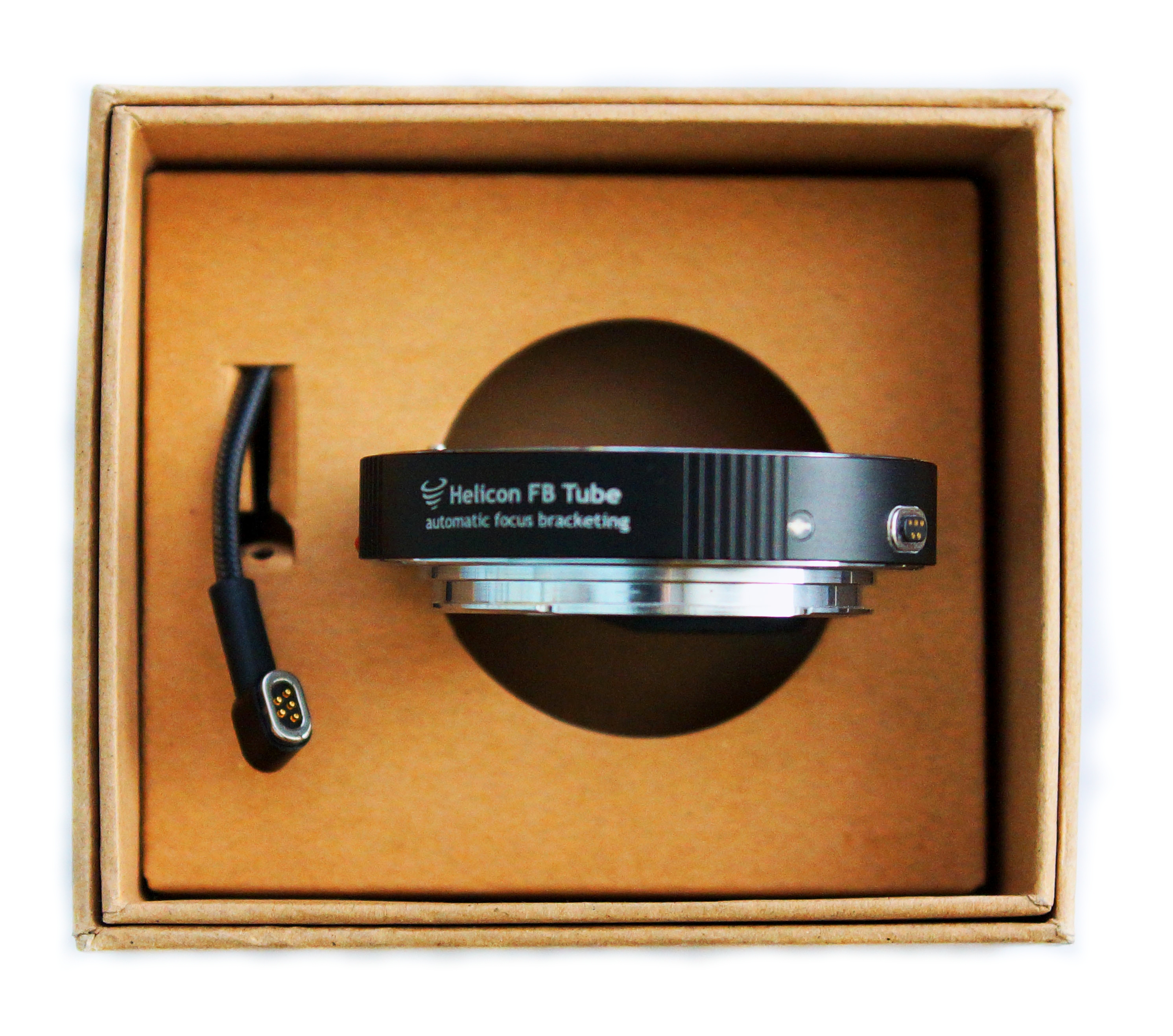 Helicon FB Tube Set contains Helicon FB Tube and magnetic cable.
Two types of Helicon FB Tube are available: for Canon DSLRs and for Nikon DSLRs.
Hardware requirements
Canon DSLR with EF-mount / Nikon DSLR with F-mount
Autofocus lenses with internal motor
Win, Mac OS, Android or iOS device with 3.5mm audio output
Before starting working with Helicon FB tube, camera and lens settings need to be adjusted and Helicon FB Tube needs to be configured.
---
Helicon Remote vs Helicon FB Tube
Helicon Remote and Helicon FB Tube are not intended to be used together. These are two stand-alone products.
They both enable automated focus bracketing, each of these solutions having it's specifics and advantages. With Helicon Remote you need to tether your camera and you can trigger shooting remotely. It's fine if you don't need high shooting speeds, if you have time and space to set it all up. But if you want also to shoot in the field, to shoot hand-held and/or shoot moving objects, you would probably prefer shooting in burst mode and having no additional devices involved. In this case Helicon FB Tube can be a good solution – it needs no additional power supply, no additional connection to external devices during shooting. Each of these ways of performing focus bracketing can be good for certain shooting conditions, depending on your workflow.
With Helicon Remote the initial and the end shooting points are set from the app. When working with Helicon FB Tube you set the step size from the Configuration utility, then focus on the initial shooting point and control the number of required shots by holding down and releasing the shutter button.
Download free 30 days trial of Helicon Remote to see if it meets your needs.